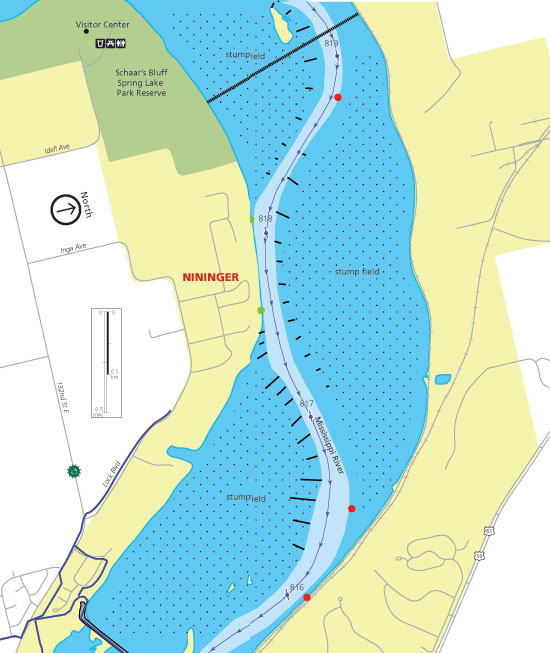 River mile: 819 - 816
Towering bluffs drop straight into the river here, and the river itself is broad and often windy. Outside the channel, most of the river's biodiversity has been lost and all that's left is a vast, shallow lake, but fishing is still good. Spring Lake was named for the springs along the base of the bluffs along its south shore.
There are wonderful views of the river from Schaars Bluff in the
Spring Lake Park Reserve
.
Ignatius L. Donnelly, a popular author and political figure in the 19th century, tried to start a utopian community at Nininger (817.7 W) in 1857. The experiment failed. Now the only traces of the community are a few buildings and two interpretive signs.
This stretch of the river was dominated by bottomland forest before
Lock and Dam 2
flooded them. The stumps remain, presenting an underwater hazard to boaters.
Download this map (PDF).
Map Index
Previous Map (Upstream)
Next Map (Downstream)
| | | |
| --- | --- | --- |
| River Mile | Latitude | Longitude |
| 819 | N 44.782317 | W 92.926990 |
| 818 | N 44.774103 | W 92.911267 |
| 817 | N 44.774222 | W 92.891985 |
| 816 | N 44.769750 | W 92.875079 |