MRC Map 13A: Minnesota River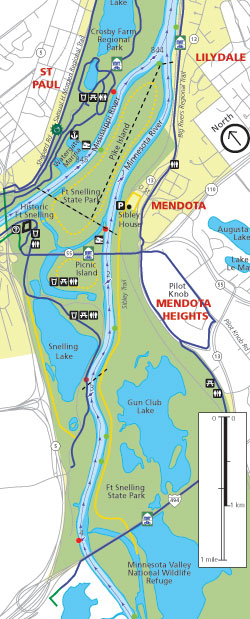 River mile: 848 - 844
Eleven thousand years ago glacial meltwater poured across southern Minnesota and carved a huge valley. Within it, today's Minnesota River appears small.
The Minnesota River (843.9 W) within Fort Snelling State Park contains many backwater lakes and wetlands. The 332-mile-long river begins at Big Stone Lake, on the Minnesota-South Dakota Border. The Minnesota Valley National Wildlife Refuge begins upriver from I-494.
The Sibley Trail connects the Minnesota Valley National Wildlife Refuge to Fort Snelling State Park. Trails from the visitor center connect to Minnehaha Regional Park (map 12) and Big River Regional Trail.

River pilots once used the high hill known as Pilot Knob (Minnesota river mile 2 W) as a landmark. The Dakota people buried their dead here.

The Big River Regional Trail connects with historic ­Pilot Knob, which is being restored to oak savanna.
Young Henry Sibley began building the Sibley House (Minnesota river mile 1.2 W) in 1838, after he came here to work as a regional manager for the American Fur Company. He later became the first governor of Minnesota. The Minnesota Historical Society gives tours of the house and other restored historic buildings on the site.
Note that the river flows to the northeast here, so the east side (bank) is on the left side of the map and the west side (bank) is on the right.
Note that this map is at a larger scale than most of the other maps.
Download this map (PDF).

Map Index
Previous Map (Mississippi River Upstream)
Next Map (Mississippi River Downstream)

| | | |
| --- | --- | --- |
| River Mile | Latitude | Longitude |
| 845 | N 44.893741 | W 93.169215 |
| 844 | N 44.897643 | W 93.150983 |