MRC Map 11: Meeker Island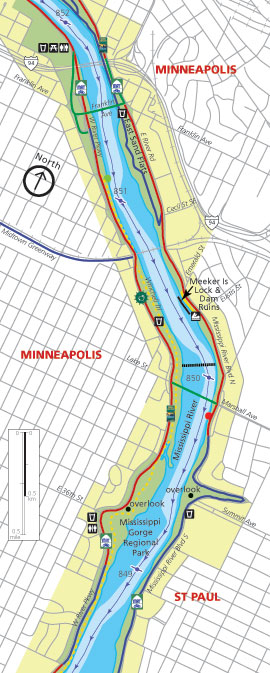 River mile: 851 - 849
From just below
St. Anthony Falls
to Fort Snelling (map 13) is the Mississippi River's only true
gorge
. Looking up at the rocky, wooded bluffs from the river, it's hard to imagine that you're in the geographic center of a metropolitan area with three million people. The bluffs are rocky and steep on both sides of the river.
Quiet, tree-lined streets parallel the blufftops on both sides, with bicycle and pedestrian trails between the streets and the bluffs. Many bicyclists use the bike lane on Mississippi River Boulevard rather than the trail. Numerous overlooks and park benches offer opportunities to relax and enjoy the views. At spots, there's good access to the river.
At the
Meeker Island Lock and Dam
ruins (850.2 E), you can see what's left of the first lock and dam on the river, built in 1907. On the downriver side a switchback trail (850.8 E) leads to the East Sand Flats. The trail continues upriver across a cantilevered structure under the I-94 Bridge to the East River Flats (852.2 E), on the University of Minnesota campus. There are spots along this stretch where a canoe or kayak could be easily pulled up onto the shore.
On the west side of the river, the pedestrian-only
Winchell Trail
follows the route of an old American Indian trail between the blufftop and the river. In places it is little more than a foot path, sometimes a steep one. The earthen trail on the upstream end of the trail cuts close to the edge, while on the downstream end the trail is paved and fenced away from the steep spots.
Access to the river on the west side can be found across from the Midtown Greenway trailhead and via stone steps near 34th St. A restored oak savanna near 36th St. is a popular place to explore.
Map Index
Previous Map (Upstream)
| | | |
| --- | --- | --- |
| River Mile | Latitude | Longitude |
| 851 | N 44.958408 | W 93.217305 |
| 850 | N 44.949838 | W 93.201743 |
| 849 | N 44.935427 | W 93.199922 |