MRC Map 20: Lower Grey Cloud Island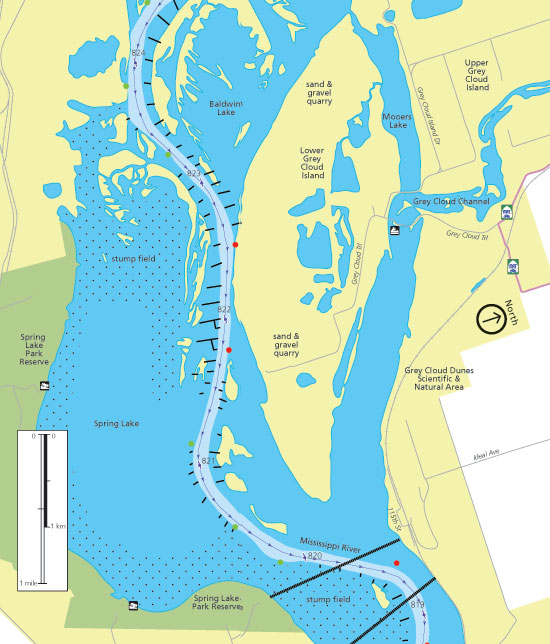 River mile: 824 - 819
Baldwin Lake (822.5 to 825.5 E) provides excellent backwater paddling and birdwatching. Eagles are frequently seen fishing in the main channel and in the treetops.
Large volumes of sand and gravel are mined on Lower Grey Cloud Island (821 to 825 E). Most of it is shipped out on barges.

Spring Lake (815.2 to 823 W) is a broad and windswept backwater, but be careful-before Lock and Dam 2 was built, it was a floodplain forest and those stumps are still there, just below the surface. Be careful when boating!
Lower Spring Lake Park Reserve (822 W) features a scenic overlook and picnic area at Schaars Bluff.
Grey Cloud Dunes Scientific and Natural Area (821 E) is a 220-acre preserve popular with birders and hikers.
The Mississippi River Trail route passes through Cottage Grove to Highway 61. Before it crosses the river to enter Hastings, one branch splits off to follow Highway 10 to Prescott, Wis.
Note that this map is at a different scale than most of the other maps.
| | | |
| --- | --- | --- |
| River Mile | Latitude | Longitude |
| 824 | N 44.772358 | W 93.010858 |
| 823 | N 44.774893 | W 93.992392 |
| 822 | N 44.772982 | W 93.973654 |
| 821 | N 44.766189 | W 93.955739 |
| 820 | N 44.772939 | W 93.939452 |
| 819 | N 44.782317 | W 93.926990 |