MRC Map 14: Lilydale Park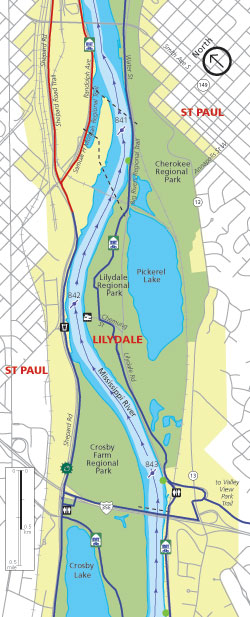 River mile: 843 - 841
The river here picks up speed a bit, and you're more likely to encounter barge traffic than you were upriver. You can peek at blufftop neighborhoods, but the river valley is all undeveloped parkland that looks wild and natural from the water.
The Big Rivers Regional Trail connects Lilydale Regional Park (841.3 to 843 W) to Harriet Island Regional Park and downtown St. Paul (map 15).

Walking trails and benches provide great views of downtown St. Paul and the Cathedral of St. Paul from Cherokee Regional Park (840.5 to 841.3 W).
Trails in Crosby Farm Regional Park (842.3 to 845.4 E) follow the river, sandy beaches, floodplain forests, and a wetland. St. Paul's Great River Park aims to connect 17 miles of riverfront via parks, trails, and neighborhoods.
Note that the river flows to the northeast here, so the east side (bank) is on the left side of the map and the west side (bank) is on the right.
| | | |
| --- | --- | --- |
| River Mile | Latitude | Longitude |
| 843 | N 44.906719 | W 93.135846 |
| 842 | N 44.919928 | W 93.128351 |
| 841 | N 44.926368 | W 93.111285 |