MRC Map 12: Hidden Falls Regional Park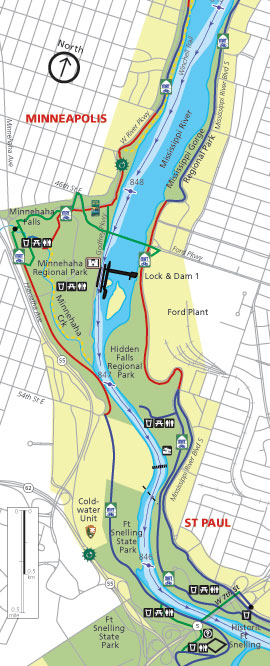 River mile: 848 - 846
The deep river gorge disappears as the Mississippi approaches its confluence with the Minnesota River.
Minnehaha Regional Park (847 to 847.6 W) features a dramatic waterfall where Minnehaha Creek spills over a cliff, tumbling 53 feet into a gorge. The walking path along Minnehaha Creek is accessible from the park and the river. There is a pavilion with a seasonal restaurant near the falls.

(845.4 to 847.4 E) includes tall cottonwoods in floodplain forests, which become common below the gorge.
Lock and Dam 1 (847.6) was built by the Army Corps of Engineers in 1917. In 1923, Ford Motor Company added a hydroelectric station to generate electricity for its assembly plant.
The Army Corps of Engineers operates an observation area on the west side, where you can watch boats lock through. The road to the lock and dam begins where West River Parkway becomes Godfrey Parkway, on the upriver side of the Ford Parkway Bridge.
| | | |
| --- | --- | --- |
| River Mile | Latitude | Longitude |
| 848 | N44.921125 | W 93.202517 |
| 847 | N44.907698 | W 93.198435 |
| 846 | N44.896398 | W 93.189096 |
Did You Know?

At Lake Onalaska, near LaCrosse WI, the Mississippi River is about 4 miles wide. The combination of water held behind Lock and Dam #7 and water held by damming the Black River form this broad reach of the Mississippi River.