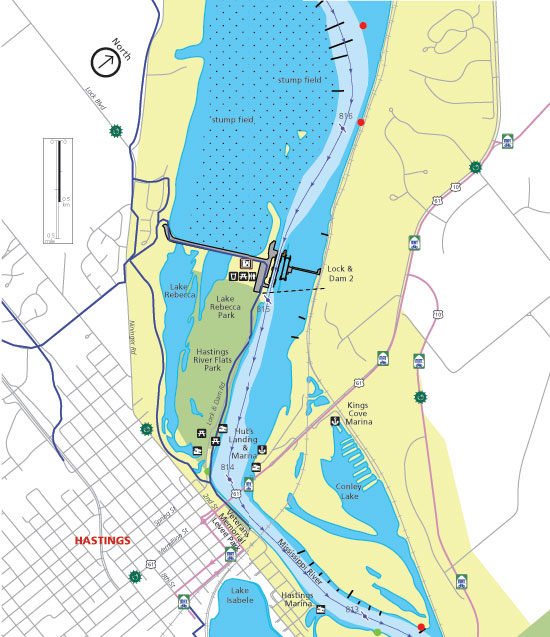 River mile: 816 - 813
Lock and Dam 2 (815.2) connects the high bluffs on either side of the river here. Lake Rebecca is a pretty backwater area maintained as a city park. Marinas dot the Hastings area. Hastings is a true river town and a popular boating and biking destination. Downstream of the lock and dam, note the extraordinary old Canadian Pacific railroad lift bridge (813.7).
A nice trail begins on the levee downtown and follows the river to Lake Rebecca Park, past the lock and dam, and up the hill to the ridge.
Hastings River Flats Park, between the river and Lake Rebecca, offers excellent prairie wildflower and waterfowl viewing.
The Mississippi River Trail also connects to Hastings from the west on a trail along the south side of the Vermillion River (map 24).
| | | |
| --- | --- | --- |
| River Mile | Latitude | Longitude |
| 816 | N 44.769750 | W 92.875079 |
| 815 | N 44.757442 | W 92.866096 |
| 814 | N 44.746770 | W 92.854246 |
| 813 | N 44.748286 | W 92.834219 |