MRC Map 15: Downtown St. Paul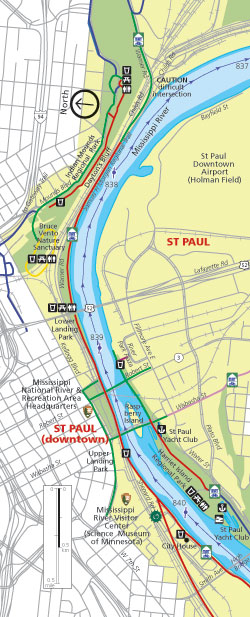 River mile: 840 - 837
Currents, tows, excursion boats, and bridge abutments require alert boating in the St. Paul downtown stretch of the river. This is where the Mississippi opens up into the broad valley it will occupy all the way to St. Louis.
Park rangers at the Mississippi River Visitor Center (839.7 E), located in the Science Museum of Minnesota, provide information and answer questions about this national park and other national parks. The visitor center also offers educational displays and literature. Phone 651-293-0200.
The historic City House, built in 1931, was once a municipal grain elevator.

Harriet Island Regional Park (839.5 to 840.5 W) offers excursion boat rides, a restored pavilion, trails, wide open spaces, and views of the river and downtown. The St. Paul Yacht Club marinas are at both ends of the park. The marina near the Wabasha Street Bridge has a public dock.
A vibrant downtown St. Paul sits on a bluff above the river. Paddlewheelers once lined the shore here. The park on the bluff downtown, along East Kellogg Boulevard (839.2 to 839.5 E), is a good spot to view the working river, Raspberry Island (839.5), the Union Pacific Railroad lift bridge (839.3), and the other bridges.
Separating downtown from historic Dayton's Bluff is a valley containing the Bruce Vento Nature Sanctuary. Indian Mounds Regional Park, on the blufftop, contains large Hopewell mounds and offers a grand view up and down the river.


CAUTION: Cyclists should use caution at the intersection of Warner and Child's Road.
Note that the river flows to the northeast here, so the east side (bank) is on the left side of the map and the west side (bank) is on the right.
| | | |
| --- | --- | --- |
| River Mile | Latitude | Longitude |
| 840 | N 44.937734 | W 93.099948 |
| 839 | N 44.945536 | W 93.083299 |
| 838 | N 44.945783 | W 93.064381 |
| 837 | N 44.935687 | W 93.050495 |