MRC Map 1: Crow River Section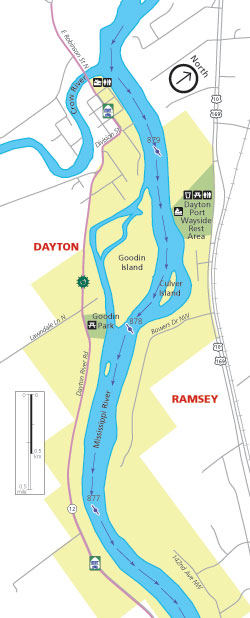 River mile: 879 - 877
This shallow, winding stretch of the Mississippi is designated a Minnesota Wild and Scenic River. It holds abundant wildlife and not much development -- you could easily imagine that you are 100 miles farther north. During times of low water you may have to drag your canoe over an occasional gravel bar.
The Crow River (879.6 W) is popular with paddlers, especially the North Fork, which is also a Minnesota Wild & Scenic River.
Originally an early American Indian trail modified by settlers, Dayton River Road is part of the Mississippi River Trail and Great River Road Scenic Byway. The road doesn't have much of a shoulder or much traffic. The nearest bridge crossing is about four miles upriver.

Dayton Port Wayside Rest Area (878.6 E) has plenty of big shade trees and scenic picnic sites with views across the river to Goodin Island.
During most of the 19th century, the Red River Oxcart Trail linked St. Paul with settlements in Manitoba, Canada. Highway 10 and the nearby railroad tracks generally follow the route of this historic trail along the river.
Goodin Park (878.0 W) has picnic tables, grills, and a short walking trail through a typical floodplain forest.
| | | |
| --- | --- | --- |
| River Mile | Latitude | Longitude |
| 879 | N 45.245280 | W 93.511099 |
| 878 | N 45.235588 | W 93.497436 |
| 877 | N 45.225306 | W 93.483919 |