MRC Map 5: Coon Rapids Dam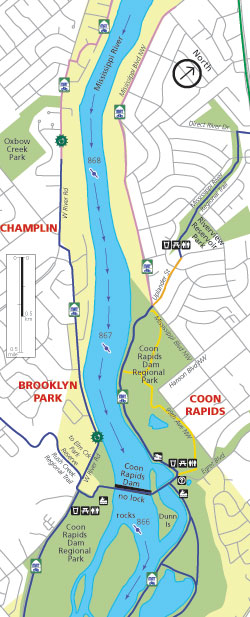 River mile: 868 - 866

Suburbia gives way to green space as you enter Coon Rapids Dam Regional Park (east and west) (865 to 867.7), which extends along both sides of the river. Traveling upriver, this is the first dam on the Mississippi that does not have a lock. Paddlers can portage around the east side of the dam.

The park on the east side of the river has a good trail system. Both sides have a visitor center with exhibits. The pedestrian/bike bridge on top of the dam provides scenic views upriver and of the rapids downriver and connects the two parks.
The Rush Creek Regional Trail begins at the west Coon Rapids Dam Regional Park and runs 7 miles west to Elm Creek Park Reserve.
The Mississippi River Regional Trail begins in the east Coon Rapids Dam Regional Park and follows a scenic, well-marked route downriver for 11 miles to Minneapolis. On the west side the Mississippi River Trail follows West River Road.
| | | |
| --- | --- | --- |
| River Mile | Latitude | Longitude |
| 868 | N 45.156947 | W 93.340331 |
| 867 | N 45.149113 | W 93.325095 |
| 866 | N 45.142035 | W 93.308021 |
Did You Know?

Over 600 men worked around the clock using hand tools, horses and coal powered shovels to build the original Coon Rapids Dam in 1913. The dam was rebuilt between 1995 and 1997.