MRC Map 2: Cloquet Island Segment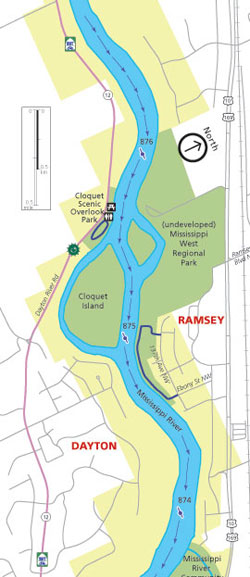 River mile: 876 - 874

This quiet, winding reach of river is lined with big trees, undeveloped islands, and scattered homes. It is not uncommon to find bald eagles watching from the trees or soft-shelled turtles sunning themselves on logs and driftwood in the backwater areas around the islands. Remnants of the ­area's original hardwood forest and prairie vegetation can also be seen along the river. In many ways, this stretch of river feels more like the Upper St. Croix, a national scenic riverway, than the semi-suburban Mississippi.

Public access along this stretch can be found at Cloquet Scenic Overlook Park (875.5 W) and on a short stretch of trail in Ramsey (875 E). The park is on Dayton River Road on the bluffs above Cloquet Island and the Mississippi River.
| | | |
| --- | --- | --- |
| River Mile | Latitude | Longitude |
| 876 | N 45.224420 | W 93.464029 |
| 875 | N 45.217261 | W 93.446878 |
| 874 | N 45.215399 | W 93.427325 |
Did You Know?

Certain freshwater mussels can live to more than 100 years in the right conditions. This lifespan is one of the longest for any creature on earth.