MRC Map 6: Banfill Island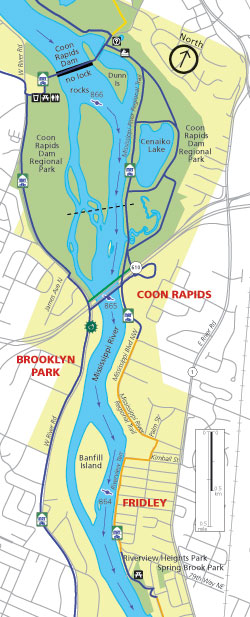 River mile: 866 - 864

Below the dam the river returns to a more natural state, with minor rapids, wooded shorelines, and abundant wildlife. Cenaiko Lake in Coon Rapids Dam Regional Park is a designated trout lake that is stocked annually.

Below the Richard P. Braun (Highway 610) Bridge (865), suburban development near the river is tucked behind high, wooded banks. Keep an eye out for turkeys and other wildlife near the roads and trails.
The Mississippi River Trail on the east side of the river passes through woods near the Highway 610 Bridge, then follows wooded residential streets, often with a good view of the river.
The Mississippi River Trail on the west side of the river follows a paved trail next to West River Road, usually a couple of blocks from the river.
The National Park Service and Anoka County are working together on several restoration projects in this stretch of river.
| | | |
| --- | --- | --- |
| River Mile | Latitude | Longitude |
| 866 | N 45.142035 | W 93.308021 |
| 865 | N 45.128696 | W 93.298551 |
| 864 | N 45.115025 | W 93.290434 |