MRC Map 3: Anoka & Champlin Segment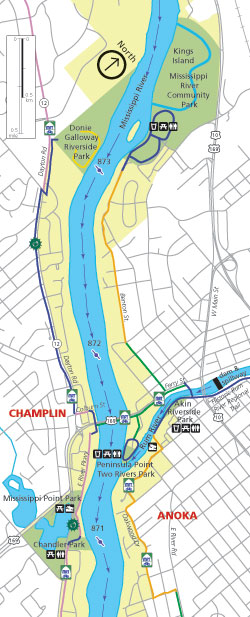 River mile: 873 - 871

There are numerous parks in this reach. Mississippi River Community Park (873.5 E) has a short trail system. Peninsula Point Two Rivers Park has nice amenities and good access to the river. During low water there are many rocks and sandbars.
The Highway 169 (Ferry Street) Bridge (871.6) is remarkably graceful-looking from the water. It is a very busy bridge, with good access for bicyclists and pedestrians.
The Mississippi River Trail follows paved trails on the west side of the river, then follows mostly residential streets downriver. On the east side of the river, the trail crosses the Rum River in Anoka over a pedestrian/bike bridge a block before Main Street, then follows residential streets to East Coon Rapids Dam Regional Park.
The Historic Rum River Regional Trail intersects with the Mississippi River Trail in Anoka. The Rum River was used by many early European explorers, and later carried logs to the Mississippi River. The Rum River spillway is a good fishing spot and wheelchair accessible.
| | | |
| --- | --- | --- |
| River Mile | Latitude | Longitude |
| 873 | N 45.203093 | W 93.416843 |
| 872 | N 45.193844 | W 93.401768 |
| 871 | N 45.184907 | W 93.386039 |
Did You Know?

A canoe trip in the Mississippi River Gorge between Minneapolis and St. Paul, MN feels like you are miles away from civilization even though you are in the center of a large metropolitan area.