Manomin Park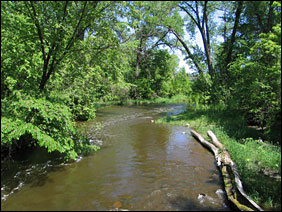 Overview

Since 1967, Anoka County has owned and operated this 18-acre park that historically was part of Manomin County, later dissolved and annexed to Anoka County. (The word "manomin," is a Chippewa name for wild rice.)
Manomin County Park's setting is the confluence of Rice Creek and the Mississippi River formed by the Superior and Grantsburg glaciers approximately 10,000 years ago. (A glacial lake formed most of the Rice Creek watershed and also the Mississippi River from St. Cloud to Minneapolis.) Rice Creek is located to the east of the park and drains into nearby Locke Lake before arriving at the Mississippi River.
A 1995 redevelopment of Manomin Park bettered its amenities, including a gazebo-style picnic pavilion, period lighting, benches, a large restroom facility and paved and limestone trails.
Park visitors can walk right up to the river's edge. Several foot bridges carry visitors across runoff areas. Visitors wishing to see Locke Lake should take the nearby walking tunnel under East River Road. On the way, fishermen might be catching sheephead, walleye, sun fish, crappie, northern pike and carp at the Locke Lake spillway.
Near the spillway, nature enthusiasts can access the Mississippi River Regional Trail that leads nine miles north to the city of Anoka or five miles south to the city of Minneapolis. The trail runs parallel with East River Road from its northern point at Coon Rapids Dam Regional Park to its southern point at the I-694 juncture that is close to the handicapped-accessible Islands of Peace Park and the historic Riedel Farm Estate.
Contact Information: Call Anoka County Parks at 763-757-3920.
Related Activities: Biking, Birds & Wildlife, Family-Friendly, Fishing & Hunting, Hiking & Walks, History & Culture, Museum, Boating & Canoeing, Picnicking, Tours, Visitor Center
Did You Know?

The river is so shallow at Lake Itasca that children can walk across the Mississippi. Between Governor Nicholls Wharf and Algiers Point in New Orleans, the Mississippi is more than 200 feet deep.