Leonard H. Neiman Fields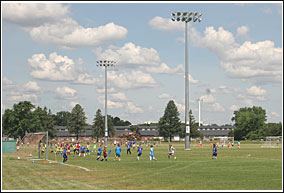 Overview
The Leonard H. Neiman Fields complex was a part of the larger historic Fort Snelling location. The sports complex is the result of a recommendation for a high-quality sporting venue for area youth and adults.
The sports complex sits on the upper bluff overlooking the Mississippi and Minnesota Rivers.
Activities: The complex includes multiple baseball, softball, and soccer fields. There are also indoor and outdoor tennis courts, youth golf facility, and concessions. Baseball and softball fields have lighting for evening games and bleachers for spectators. Fort Snelling State Park and the Historic Fort Snelling are located nearby.
Hours: 6 a.m. until 10 p.m.
Contact Information: Call the Minneapolis Park and Recreation Board at 612-230-6400 for more information.
Did You Know?

At Lake Onalaska, near LaCrosse WI, the Mississippi River is about 4 miles wide. The combination of water held behind Lock and Dam #7 and water held by damming the Black River form this broad reach of the Mississippi River.