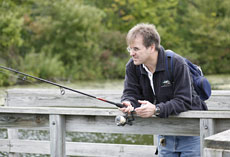 Visitors are welcome to check-out fishing rods and tackle boxes from the Mississippi River Visitor Center. Anglers can choose from open-faced and push-button style fishing rods.Our tackle boxes offer a variety of hooks, lures, and artificial bait to catch sunfish, catfish, walleye, and other species.
This is a great way to learn about fishing without having to buy the equipment.
A $25 cash deposit is required at check-out and will be refunded when the equipment is returned. Equipment can be checked out for up to two weeks.
Fishing licenses are required by Minnesota state law, except for Minnesota residents at selected Minnesota state parks, such as Fort Snelling State Park (entrance fee required). Also watch local news outlets for information on state-wide free fishing days, when licenses are not required.
The Mississippi River Visitor Center is open Su-Thu 9:30am-5pm and Fri-Sat 9:30am-9pm. Call 651-293-0200 to check equipment availability and inquire about the many great places to fish along the Mississippi River.
Fishing is relatively easy if you have a know a little bit about where fish live, what they eat, what tackle to use, and where to go. Here are some of our favorite links to learn more about fishing.
Explore your Mississippi.