National Parks Passport Program
The National Parks Passport program is a great way to explore the 395 units of the National Park Service. Purchase your passport book at the Mississippi River Visitor Center--or most national park visitor centers--and then obtain stamps for each park you visit. Passport books may also be obtained online at the Eastern National store. Stamps are available at most visitor centers, or ask a ranger where you can have your passport book stamped. Almost all parks have at least one stamp.
Stamping Station Locations:
Within the Mississippi National River and Recreation Area, you may get your passport book stamped at any of the visitor centers listed below. Hours vary, so call ahead for current information.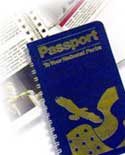 Passports are a great way to remember visits to your national parks.
Did You Know?

At Lake Onalaska, near LaCrosse WI, the Mississippi River is about 4 miles wide. The combination of water held behind Lock and Dam #7 and water held by damming the Black River form this broad reach of the Mississippi River.