Riverside trails within the Mississippi National River and Recreation Area are a small part of a much larger system of bicycle routes that follow the Mississippi from Lake Itasca to the Gulf of Mexico. The Mississippi River Trail (MRT) stretches 3,000 miles through 10 states. Sometimes, the trail is on roads and streets, sometimes atop levees, and in other sections, the route is an off road trail for bicyclers and walkers only. Somewhere along the Mississippi, you can find a route to meet any purpose.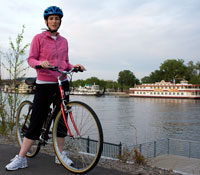 In Minnesota, the Department of Transportation is leading the effort to identify and sign the trail from Lake Itasca to the southern border of the state. Their website provides an overview of the MRT through the Twin City Metropolitan area and the entire state. The DOT's Share The Road website is an excellent way to learn about safe bicycling and the dangers of the road.
The National Park Service has also published a guide to
biking and hiking trails
within the Mississippi National River and Recreation Area. This guide is designed to help users identify routes as well as other amenities such as potable water, restrooms, parking lots and other points of interest along the route.

The Mississippi River Trail is sponsored by MRT, Inc. This organization focuses on identifying and signing the route and encouraging use through all 10 states. They are also a major fundraiser for the development of new trails and partnerships.
These sources of information can guide you on your biking adventures along the Mississippi River.