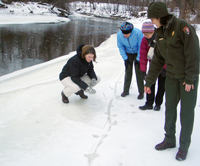 Background on Otters
Otters mostly eat fish, but will also eat plants, insects, small mammals, snails, and mussels. They have few natural predators. Importantly, otters regulate aquatic ecosystems so that other fish and animals don't overpopulate. Their position at the top of the food chain also puts them at risk for absorbing more pollutants than other organisms, through a process called "bio-accumulation."
Otters spend most of their time playing and hunting. These aquatic mammals are well adapted to living in the water with their streamlined bodies, webbed feet and dense, shiny fur. While otters can be observed at any time of the day, they are most active at night and are often shy and elusive. One of the best ways to look for otters is to look for their footprints or scat. In the winter, you can often find their sliding tracks and footprints in the snow.