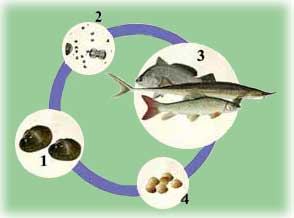 Life Cycle


1. The male mussel releases sperm directly into the water, which enters the female via the incurrent siphon. After fertilization, the eggs develop into the larval stage called glochidia (gloh-kid-ee-uh). The glochidia grow in the gills of the female where they are constantly flushed with oxygen-rich water.
2. After growing for two months to a year in the female, the glochidia are ready to leave their mother. At this point, the glochidia are very tiny, almost microscopic in size. To successfully make it to adulthood, the glochidia become parasitic, and must attach to a host fish. Freshwater mussels have a number of different ways of helping their glochidia find a host fish. Some species release the glochidia into the water, where they float until they come in contact with a fish of the right variety. Others attract fish by waving parts of their tissue in the water. A few varieties have tissue that
looks like a minnow or crayfish
(video, 1.5 min), complete with spots that look like eyes. When a fish
approaches or bites the lure
(video, 5 sec), the glochidia are expelled into the water near or on the fish. With luck, they attach themselves to the gills or fins of the host fish. Many species of mussel are "host specific", meaning their glochidia can only grow on one species of fish. Unfortunately, this makes it difficult for them to reproduce in large numbers.
3. When the glochidia come in contact with the right species of fish, they enclose themselves in cysts on its gills or fins and feed off of the fish's blood. With this extra nutrients, the glochidia transform themselves into tiny adults. During this transformation period, the fish will likely travel, providing the tiny mussel with transportation.
4. After a period a few weeks to months, the young mussels begin to drop off of their host fish. Once they fall off, they bury themselves in the bottom substrate of the river or lake they're in. If they land in a place that suits their needs, they will begin their independent life as an adult mussel.


Habitat

Mussels are
benthic
animals, meaning that they spend their lives on the bottom of lakes, rivers, and streams. Healthy mussels are usually very difficult to see because most of the animal is buried in the riverbed. While some mussels live on sandy river bottoms where the current moves quickly, others prefer a muddier bottom where there is less current. Mussels don't move around very much, but when they do, they pull themselves along using a fleshy foot that they extend outside their shells. Under good conditions, mussel tracks can be seen on the riverbed.
Small changes in habitat can drastically affect a mussel's health. Excessive silt can cover a mussel or a mussel bed smothering the animals. High water and fast current can wash a bed downstream to a place that may not be as preferable as the old bed. Channels and dams built for navigation and/or flood control change the nature of the river in ways that can help some species of mussels, but devastate others. Exotic species, such as the
Zebra mussel
, threaten native mussels by competing for food, oxygen and living space. Zebra mussels attach themselves to native mussels and can grow so thickly that the native mussel can no longer open its shell to feed, move, or breathe, eventually killing it.
Predators
Freshwater mussels are a favorite source of food for muskrats, otters, raccoons and other mammals, and shells from their "hunting trips" can be found in piles along the riverbanks. Called middens, these piles of shells often contain a surprising variety of mussels in a single location. Ducks, geese, and flatworms have also been known to eat these critters. Historically, Native Americans and settlers ate freshwater mussels, but a chewy consistency and unpleasant taste helped keep them out of American cookbooks.