---
Updates
The results are now complete for vascular plants (Word document or PDF) and partially complete for animals and lichens (Excel spreadsheet or PDF); insect totals are still being compiled.
The 2010 BioBlitz is scheduled for June 11 and 12 at the Minnesota's Department of Natural Resource's Vermillion River and Vermillion Highlands area in the southeast Minneapolis/Saint Paul metro area. Be sure to mark your calenders for this event.
---
Scientists and volunteers of all ages teamed up on June 12-13 from 5 p.m. Friday to 5 p.m. Saturday for BioBlitz 2009 at St. Paul's
Crosby Farm Regional Park
. Their task was to identify and catalog as many species of life as possible within a 24-hour period.
A BioBlitz is not only a scientific venture, but is also fun and educational activity. Adults and children assisted professionals as "citizen scientists" or simply observed. Teams conducted inventories of insects, mammals, birds, plants, reptiles, amphibians, mussels, fungi, lichens, and fish. Presentations by scientists, naturalists, and park rangers took place throughout the event. Children received buttons for participating in various events. Some of the events were designed for the Junior Ranger program and several children received their Junior Ranger badges.
Friday evening included a night ramble at dusk for amphibians and late-flying birds. Teams also captured night-flying insects at both white light and blacklight stations, an effort that went well into the early hours of Saturday morning.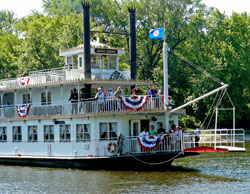 Participants on Saturday morning's "Birding Boat" not only enjoyed the adventure of traveling the river on a paddleboat but also spotted many species of birds, including two peregrine falcons perched on the High Bridge.
Two bald eagles resting on the same branch of a riverside cottonwood tree also garnered a lot of interest. A few minutes later a bald eagle flew past the boat at eye-level offering impressive views of an impressive bird. (The Mississippi River National River and Recreation found 25 active bald eagle nests in our annual spring survey within its 72-mile long corridor.) Rangers and ornithologists pointed out not only the different species of birds, but also discussed the natural history of those birds.
BioBlitz 2009 also cataloged several surprises for the area. Seventeen species of mussels were identified in the short stretch of river near Crosby park, indicating the river's increasing water quality. Two fox snakes were found in Crosby Farm Regional Park; a species that hadn't previously been identified at this location. Dragonflies, damselflies and other insect species were numerous, although the dry spring probably reduced their numbers. Fungi numbers were also adversely affected by the dry spring. At least 240 species of plants were found, including 13 new species previously unreported in Ramsey County.
A BioBlitz is a great way to participate in science, to learn new skills, have new experiences, and to work with and observe highly skilled researchers in the field. Participants not only understand scientific endeavors better but also become much more acquainted with the surprising biodiversity in their local parks and the role those parks play in preserving that biodiversity.