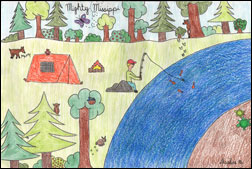 The Big River Art Contest is a way for 3rd - 6th grade students to share their experiences with the Mississippi River by creating a piece of art. While the Big River Art contest is part of educational programs of the Mississippi National River and Recreation Area such as Big River Journey and Journey to the Falls, it is open to any 3rd - 6th grade student. Get out and explore the Mississippi River and then share your experience with others by creating an art piece.
The Big River Art Contest is organized into four categories. Two of the categories require that students participate in either Big River Journey or Journey to the Falls. The other two categories, Mighty Mississippi and Caring for the River, are open to all students. Need ideas to get started? To get started, check out the Ideas below or this link to past winners (link here or wherever makes sense) but remember that originality is highly rated when the art is judged.
The Mighty Mississippi (sample artwork)
This category is about the living Mississippi River - its wildlife, plant life, scenery, and recreation - and its relationship to you. Here are just two ideas. Draw a picture showing you exploring the river with friends, canoeing, fishing, hiking, biking, bird watching, etc. Or create a picture showing the river as a home for animals - turtles, frogs, mussels, beaver, otter, fox, deer, fish, birds, etc.
Caring for the River (sample artwork)
The river provides us with water, recreation, and beauty. Draw or paint a picture that shows what you appreciate about the river and/or how we can take care of the river and why. Here are a couple of ideas. Show how we can cut down on pollution and take care of the river- ride a bike, turn off lights, reuse, recycle, restore habitat or by using fewer products. Show who uses the river- it's our drinking water, home for wildlife. Draw how pollution can get to the river through our streets.

Big River Journey
(
sample artwork
)
Show what you did or what you saw on Big River Journey. Draw your favorite learning station or something you learned about while on the boat. What did the river look like from the boat? What did you see? What did you see or do at Fort Snelling State Park?
Journey to the Falls
(
sample artwork
)
Draw what you did, saw or learned on Journey to the Falls. What did you see or do at the archaeological dig or on the history hike? Draw the boat with you and your friends viewing birds, animals, boats, bridges, the falls or other river sites.
Official Rules and Entry Information

Official rules for the contest are published in the Big River Art Contest Brochure 605k pdf. Join the more than 10,000 students who have participated in the contest since it began in 1998. Current winning art is on display at the Mississippi River Visitor Center in the Science Museum of Minnesota and the online Art Gallery. Winning artwork from previous years are on display at the Mill City Museum and Fort Snelling State Park.
Entries must be received by 4:30 p.m., Friday, June 3, 2016.
Submit school packets of entries to:
Art Contest
Mississippi National River and Recreation Area
111 East Kellogg Blvd., Suite 105
Saint Paul MN 55101-1256

Works of art will be selected by a panel of judges who will evaluate works on artistic merit and originality. Winners will be notified by mail or phone; prize tickets will be mailed to the home address of each winning student.
For more information, contact Brian Goodspeed, (651) 293-8414

Big River Journey is made possible by the generous support of the Mississippi River Fund, Excel Energy Foundation, Ecolab Foundation and Medtronic Foundation.