Traffic Alert

I-90 Exit 131 (Visitor Contact Station) is open in both directions. Exit 127 (Launch Control Facility) is closed to eastbound traffic, but open to westbound traffic. Pick up all tour tickets at exit 131. Allow extra time to travel to Delta-01 for tours.
Visitor Contact Station Hours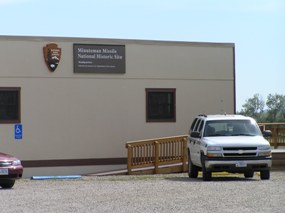 NPS
The Minuteman Missile visitor contact station is open daily from 8:00 a.m. to 4:30 p.m. During our winter season (November through March), weekend hours are 9 a.m. to 4 p.m. We are closed on Thanksgiving, Christmas and New Year's days.
Visitors can watch an orientation film which gives a virtual tour of the sites that make up the park. There are also exhibits with original artifacts which tell the history of the Minuteman missile system and the Cold War.
The contact station is south of Exit 131, just off I-90 in western South Dakota, beside the Conoco gas station. This is 75 miles east of Rapid City.
Click here for GPS coordinates to the contact station!
Did You Know?

Delta-01 and Delta-09 were selected for preservation because they were the most typical and least altered from the original 1961 Minuteman missile configuration.