Traffic Alert

I-90 Exit 131 (Visitor Contact Station) is open in both directions. Exit 127 (Launch Control Facility) is closed to eastbound traffic, but open to westbound traffic. Pick up all tour tickets at exit 131. Allow extra time to travel to Delta-01 for tours.
No Tours available on Tuesday, October 7

There will be no tours provided of D-01 on Tuesday, Oct 7. D-09, the missile silo at exit 116 off of I-90, will remain open for self-guided tours.
Things To Know Before You Come
Tickets are given out, in person at the Visitor Center, on a first come, first served basis, the day of the tour. Tickets and spaces are limited. It is best to arrive early to request tickets, if you would like to visit the underground Launch Control Center. The elevator that takes you 31 feet underground, can hold approximately 6 visitors at a time. For safety and security, we do not allow bags or purses of any size on our tours. Cameras are welcome.
For Tour Information Please Click Here...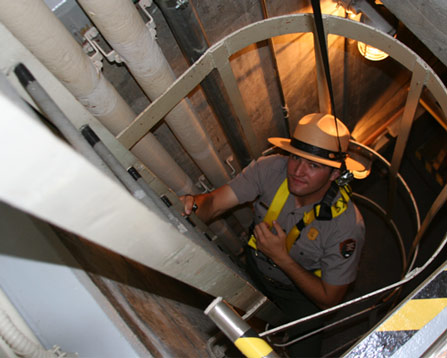 NPS

As a safety precaution- all tour participants to the underground Launch Control Center must be able to climb two (2) fifteen foot ladders, for a total of 30 feet, in a situation where the elevator breaks down.

All participants of the underground portion must be at least four (4) years old and over 40 inches tall.

Precautions are due to OSHA standards in case of an emergency evacuation.
Did You Know?

Minuteman Missile National Historic Site is one of the United States' newest National Park Service units. It was designated in 1999 and became the 379th NPS unit (there are currently 395).