Traffic Alert

I-90 Exit 131 (Visitor Contact Station) is open in both directions. Exit 127 (Launch Control Facility) is closed to eastbound traffic, but open to westbound traffic. Pick up all tour tickets at exit 131. Allow extra time to travel to Delta-01 for tours.
Visiting Delta-09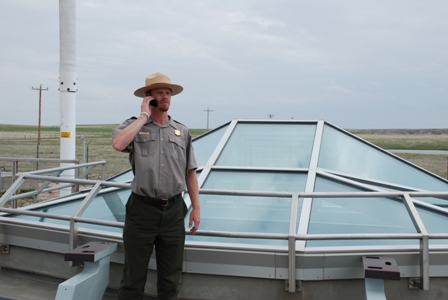 Located just off I-90 at exit 116, visitors can tour Launch Facility (missile silo) Delta-09 on their own via a cell phone tour option, available May through October. Delta-09 is open year round weather permitting.
While at Delta-09 visitors can look down through a glass enclosure and see and Minuteman II training missile in the silo.
The cell phone tour leads visitors through a series of stops that provides historic background and interpretation of site operations.
Feel free to listen to or download the Cell Phone tour sound files below. A complete sound file of all stops is located at the top of the list otherwise individual stops are available below.
For more information on the Minuteman II missile, Click Here...
Delta-09 ALL STOPS

Stops 1 through 10 on a single file available for download. Describes the entirety of the site in about 16 minutes.

Duration:

16 minutes, 5 seconds
Stop 1 - "In Plain Sight"

An introduction to the Minuteman Missile National Historic Site Delta-09

Duration:

1 minute, 12 seconds
Stop 2 - "Why South Dakota?"

Why South Dakota was chosen for missile deployment.

Duration:

1 minute, 9 seconds
Stop 3 "Launch to Ground Zero"

A description about the flight mission of the Minuteman II missile

Duration:

1 minute, 48 seconds
Stop 4 - "Tech Wonder"

The innovations in technology involved with the Minuteman missile system.

Duration:

1 minute, 40 seconds
Stop 5 - "Antenna"

A look at communications at the silo site.

Duration:

1 minute, 29 seconds
Stop 6 - "Soft Support Building"

The Soft Support Building and its tasks in supporting site operations.

Duration:

1 minute, 30 seconds
Stop 7 - "Access Hatch"

How maintenance crews were able to access the silo.

Duration:

1 minute, 45 seconds
Stop 8 - "IMPSS"

The site security system antenna, scanning for any movement on site.

Duration:

1 minute, 41 seconds
Stop 9 - "Putting In A Missile"

How Minuteman missiles were inserted into their silos.

Duration:

1 minute, 43 seconds
Stop 10 - "Past, Present and Future"

How the role of nuclear detterence provided by the Minuteman missile system continues.

Duration:

2 minutes, 3 seconds
Did You Know?

The initial groundbreaking for the first Minuteman Missile silo in South Dakota occurred on 9/11 – September 11th, 1961.