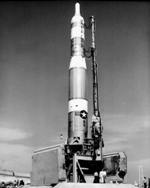 USAF
Titan I
The Titan I was 98 feet tall - 16 feet taller then the Atlas D - yet actually weighed 40,000 pounds less than an Atlas. The innovative, two stage rocket design could deliver a warhead 6,300 miles.
The Titan I could hold a W38 or W49 warhead with explosive power of 3.75 megatons or 1.44 megatons respectively. Titan I's were configured with three missiles per site, with the first missile taking at least 15 minutes, and the 2nd and 3rd missiles in 7 1/2 minutes to launch. The missiles had to be fueled before launch with an extremely flammable combination of highly refined kerosene and liquid oxygen.
The Titan I was quite vulnerable to nuclear attack. The sites were only hardened to 100 psi (pounds per square inch). The missile was also sitting exposed on the surface for several minutes before a launch. It was also very labor intensive to operate. In an average day, Titan crews had over 80 operations to go through. The Titan I was stored in silo-lift configurations and would be raised to the surface for launch.

At their peak, 54 Titan I's were operational from April 1962 until January 1965. They were based out of Lowry Air Force Base in Colorado (18), Ellsworth Air Force Base in South Dakota (9), Beale Air Force Base in California (9), Larson Air Force Base in Washington (9) and Mountain Home Air Force Base in Idaho (9). In January and February 1965 all Titan I's were taken offline in favor of Titan II's.