Patriot's Day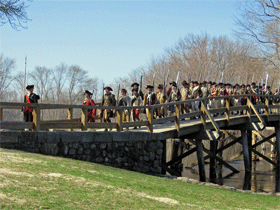 Each year in mid-April, thousands of people flock to historic Lexington and Concord and Minute Man National Historical Park to celebrate Patriot's Day. Patriot's Day is a special Massachusetts State holiday commemorating the opening battle of the American Revolutionary War, April 19, 1775.
The holiday (Officially observed on Monday, April 21, 2014), and the entire weekend, is celebrated with parades, reenactments and commemorative ceremonies.
For more information, please call (978) 318 - 7825 or e-mail us
Additional information is available at http://www.battleroad.org/
---
2014 SCHEDULE OF EVENTS
NOTE: This is a preliminary schedule. More details will be added in the coming weeks.
Saturday, April 12th
Meriam's Corner Exercise
Meriam's Corner, Concord
1:00 p.m.
The Town of Concord, joined by area minute companies, fife and drum units, and the Concord Independent Battery, pay remembrance to the fight at Meriam's Corner that marked the beginning of the six-hour running battle back to Boston. Tour the Meriam House from 11:00 a.m. - 2:00 p.m.
Paul Revere Capture Ceremony
Paul Revere Capture Site, Lincoln
3:00 p.m.
The Lincoln Minute Men and the Town of Lincoln, joined by other reenactment untis, observe the historic capture of Paul Revere with fife and drum music and a musket fire salute.
---
Saturday, April 19th
(NOTE: The "Battle Road" event, including the Bloody Angle Battle Demonstration that usually takes place at Hartwell Tavern in Lincoln will NOT be held this year.)
Dawn Salute
North Bridge, Concord
6:00 a.m.
The Concord Minute Men and the Concord Independent Battery observe the openning battle of the American Revolution in a 21 gun musket and cannon salute.
"Armed as According to Law," A Living History Event presented by Minute Man NHP and Concord Museum, featuring Captain David Brown's Company
North Bridge, Concord
8:30 a.m. - 12:30 p.m.
In 1775, how were companies of minute men armed and trained? What did they actually look like? Visit North Bridge and you will have the opportunity to see a full-strength minute company (about 40 men), meticulously researched and fully armed and equipped "as according to law," to use a much-used phrase from the period. This event will feature drill and musket firing demonstrations. Visitors are also encouraged to visit Concord Museum and see the actual artiacts in their new exhibit about April 19, 1775.
(NOTE: More information and an event schedule will be available soon.)
Arrival of the Sudbury Militia
North Bridge, Concord
11:30 a.m. (approximately)
The Sudbury Companies of Militia and Minute will make their annual march to North Bridge from the Town of Sudbury, in honor of their fellow townsmen who made a similar march on April 19, 1775. They will fire three musket volleys from North Bridge as a soldierly salute.
---
Sunday, April 20th
Warlike Preparations at the Barrett Farm
At Col. James Barrett House, Barrett's Mill Road, Concord
1:00 - 4:00 p.m.
In 1775, Colonel James Barrett of Concord was responsible for safeguarding all the military supplies in town and his house was searched by British soldiers during their mission to Concord. Visit the Barrett House and learn about the intense military preparations that helped launch America into the Revolutionary War.
---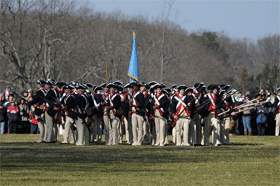 Monday, April 21st (Patriot's Day observed)
Lexington Battle Reenactment
Lexington Green
5:30 a.m.
The Town of Lexington celebrates the first shots of the American Revolution with a reenactment of the early-morning engagement between the town's militia and the Briitish regulars.
Commemoration of the North Bridge Fight, and Concord Parade
North Bridge, Concord
8:45 a.m.
British reenactors will be joined by the Acton Minutemen and other local companies for a special commemoration of the North Bridge Fight featuring musket volleys. The Concord Parade will arrive at North Bridge around 9:30 a.m.
3rd U.S. Infantry, "The Old Guard"
North Bridge, Concord
1:00 and 2:00 p.m.
The 3d U.S. Infantry, traditionally known as "The Old Guard," is the oldest active-duty infantry unit in the U.S. Army, serving our nation since 1784. The Old Guard is the Army's official ceremonial unit and escort to the president, and it also provides security for Washington, D.C. in time of national emergency or civil disturbance. Visit with these American Heroes and watch them perform real 18th Century battle tactics and musket firing as well as fife and drum music.
---
Saturday, April 26th
Battle Road Heroes
At Hartwell Tavern Parking Area
7:00 - 8:30 p.m. Tours leave every 15 minutes.
Listen to the personal stories of residents who lived along the Battle Road on April 19, 1775. Join the Guild of Historic Interpreters for a special evening of theater and history. Appropriate for ages 8 and up. Admission: $5.00 per person, $10.00 per family. Children wearing their Junior Ranger Bages may attend the program for free.
Did You Know?

The first battle of the American Revolution began at dawn, April 19, 1775, with a one-sided British victory in Lexington. 8 militiamen were killed and 10 wounded. It ended that evening with the British Regulars fighting for their lives on the road to Boston against nearly 4,000 Colonial militiamen. More...