From Our Park Library
THE LIBRARY OF MINUTE MAN NATIONAL HISTORICAL PARK has approximately 1,600 volumes that pertain primarily to the park's themes: the Battle of April 19, 1775; the American Revolution; 18th century life; and The Wayside: Home of Authors. The Wayside is a historic house museum once owned by Nathaniel Hawthorne, and National Historic Landmark.
---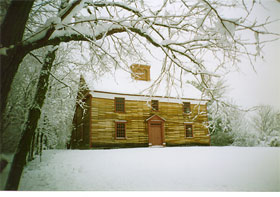 Minute Man National Historical Park is home to a great wealth of historic sites, structures, and landscapes associated with the openning battle of the American Revolutionary War. Our Historic Structure and Cultural Landscape Reports will give you a detailed insider's view of some of the park's more interesting resources. Additional reports will be added to this site as they become available. Caution: These are large files and may take a few minutes to download.
Captain William Smith House Historic Structure Report
Elisha Jones (Bullet Hole) House Historic Structure Report
Minute Man/North Bridge Cultural Landscape Report
Meriam House Historic Structure Report