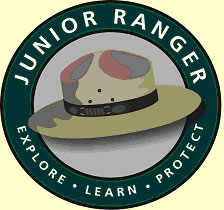 Junior Ranger Day at Minute Man National Historical Park
Saturday, April 18, 2015
Earn your Junior Ranger Badge
9:00 a.m. - 5:00 p.m.
Minute Man Visitor Center, Rt. 2A, Lexington. Pick up your very own Junior Ranger Day Booklet. You will have fun exploring Minute Man National Historical Park while completing the pages in the booklet. When you are finished, show your work to a Ranger to earn your new badge. It's a fun way to learn!

Recommended for ages 8-11.
---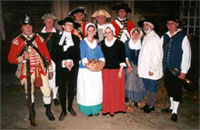 Battle Road Heroes
April 25th 2015, 7:00 - 8:30 p.m.
Hartwell Tavern, Rt. 2A, Lincoln
Walk down a candle-lit path to the past. Listen to the personal stories of people who lived along the Battle Road on April 19, 1775. Join Captain William Smith, the Hartwells, drovers, musicians and His Majesty's soldiers for this special evening of theater and history. Admission is $5.00 per person, $10.00 per family. Children wearing their Minute Man NHP Junior Ranger badge are welcome to attend the program for free.
Recommended for ages 8 and up.