Ranger Guided
Ranger-guided education programs bring the story of April 19, 1775 to life for students and connect classroom lessons to memorable field experiences. Education programs at Minute Man NHP are designed to allign with the Massachusetts Curriculum Standards.
Our education programs are run in conjunction with a viewing of our multimedia program The Road to Revolution.
To reserve an education program, call (978) 318 - 7832 or email.
If you are unfamiliar with our programs and would like more information, please contact Education Coordinator, Jim Hollister at (978) 318 - 7829 or by email.

Reservations for Autumn 2012 and Spring 2013 will open on June 1, 2012. Reservations are taken on a first come / first serve basis. Our education programs are very popular and fill up fast! For the spring 2013 season we highly recommend contacting us no later than March 1, 2013 to give yourself a better chance of getting the date and time you want.
---
PROGRAM
Rebels, Redcoats and Homespun Heroes
Students participating in this one hour program learn about the soldiers who fought at Lexington and Concord on April 19, 1775, and the often overlooked acts of heroism on the Patriot homefront. Students meet a Colonial Militiaman, British Soldier or Daughter of Liberty (protrayed by a Park Ranger) at Hartwell Tavern and discover what it was like to live through this incredible period of history and the events of 1775. Students will get the chance to perform 18th century military drill, role play, examine artifacts and witness a musket firing demonstration. During the course of the program, the complexity of the Battle of Lexington and Concord emerges as students compare and contrast the experiences and perceptions of British soldiers, Colonial militiamen, and Colonial women committed to the cause of resistance on the homefront.
Cost: $150.00 per group - up to 60 students
Target Audience: Grades 3 - 8
Pre-visit Activity Guide
Very helpful and highly recommended!
---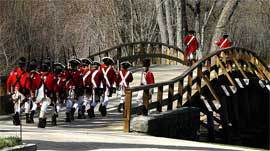 PROGRAM
Who Shot First?
How do we know what we know? History, or how we perceive it, is constantly changing! Much of what we "know" about events of the past is based upon how different historians interpret these events through the study of primary resources. During this one hour program, students will tour the North Bridge battlefield with a National Park Ranger who will lead a discussion of what happened there on April 19, 1775, day one of the American Revolution, using the landscape and other tangible resources to set the stage. Students will then engage with actual first-hand accounts of the fight, from different perspectives, and seek to answer the seemingly simple, yet not so simple, question; "Who shot first?"
Cost: $150.00 per group - up to 60 students
Target Audience: Grades 8 - 12
Did You Know?

The Hartwell family, prosperous farmers, owned and operated the Hartwell Tavern. The Hartwells' house doubled as a tavern, serving travelers to and from Boston.  Living history demonstrations provide a glimpse of life at the time of the Revolution. More...