junior ranger day
Junior Ranger Day at Minute Man National Historical Park
Saturday, April 26, 2014
Earn your Junior Ranger Badge
9:00 a.m. - 5:00 p.m.
Minute Man Visitor Center, Rt. 2A, Lexington and North Bridge Visitor Center, 174 Liberty St. Concord
Pick up your very own Junior Ranger Day Booklet. You will have fun exploring Minute Man National Historical Park while completing the pages in the booklet. When you are finished, show your work to a Ranger to earn your new badge. It's a fun way to learn!

Recommended for ages 8-11.
---
Hat's Off! A Homespun Tribute
11:00 A.M., 12:00, 2:00, and 3:00 p.m.
Whittemore House, Lexington.
Girls and boys, grandparents, moms and dads all had a role to play in the American Revolution. Make your own colonial hat and participate in a play to learn how spinning yarn, tending the garden, feeding the chickens and even shopping all helped to defend Liberty.
Meet at Minute Man Visitor Center and walk the short distance to Whittemore with a Park Ranger.
Drop in Activities
Ongoing: 10:00 a.m. - 4:00 p.m.
Come on over to the Whittemore House for some hands on fun. Dress up in colonial clothes and see how you look. Make your own colonial hat: your choice of cocked hat or cap
---
Militia Muster and Drill for Jr. Rangers
10:30 - 11:00 a.m.
1:30 - 2:00 p.m.
Whittemore House, Lexington
All Aspiring Heroes Brave and Bold! Have you ever wondered what it was like to train for battle just like a real minute man? How were Revolutionary War battles fought? We invite you to find out! Join a costumed park ranger; participate in a militia drill and watch a musket firing demonstration. Supplied with wooden muskets, Junior Rangers will be challenged to master REAL battle drill formations from 1775. (The militia drill is limited to 30 participants by the number of wooden muskets.) At the end of the propgram, the park ranger will demonstrate how to load and fire a Revolutionary War musket.
Recommended for ages 6 and up.
---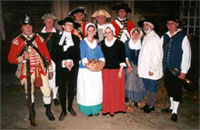 Battle Road Heroes
7:00 - 8:30 p.m.
Hartwell Tavern, Rt. 2A, Lincoln
Walk down a candle-lit path to the past. Listen to the personal stories of people who lived along the Battle Road on April 19, 1775. Join Captain William Smith, the Hartwells, drovers, musicians and His Majesty's soldiers for this special evening of theater and history. Admission is $5.00 per person, $10.00 per family. Children wearing their Minute Man NHP Junior Ranger badge are welcome to attend the program for free.
Recommended for ages 8 and up.