Chapin Mesa Archeological Museum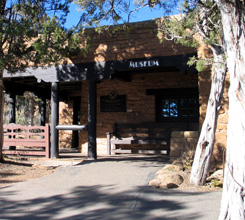 NPS PHOTO
Hours
January to early March, 9:00 am to 4:30 pm*
Early March to early April, 9:00 am to 5:00 pm
Early April to mid October, 8:00 am to 6:30 pm
Mid October to early November, 8:00 am to 5:00 pm
Early November to late December, 9:00 am to 5:00 pm*
*The museum is closed on Thanksgiving, Christmas, and New Year's Day.
For specific hours during the time of your visit, go to Operating Hours & Seasons.

Location
The museum is located on Chapin Mesa, 20 miles from the park entrance.

Exhibits

The museum displays dioramas illustrating Ancestral Puebloan life. There are also many exhibits of prehistoric artifacts, a chronology of Ancestral Puebloan culture, and other items related to the park.

Special Programs
25-minute orientation film is shown on the hour and half-hour. This film offers an excellent overview of the history of Mesa Verde.
Free self-guided tours of Spruce Tree House in the spring, summer, and fall.
Free ranger-guided tour of Spruce Tree House in winter, three times daily.

Available Facilities

Bookstore, water, restrooms, snack bar, gift shop, and post office are located near the museum.