Lodging
FAR VIEW LODGE

The Far View Lodge is open from mid-April to mid-October.
Reservations
Online


Phone
1-800-449-2288


Details
Far View Lodge sits on a high shoulder of Mesa Verde near mile marker 15 on the main park road, offering panoramic vistas into three states. It's simple here, quiet enough to hear the ravens fly by. No TVs. Nothing fancy. Absolutely beautiful. Peaceful. A place to linger and appreciate why people lived here for seven centuries.
All Far View Lodge rooms are non-smoking and feature private balconies and various bed configurations.
STANDARD:
•One queen bed or two double beds
•Private bath
•Private balcony
•AM-FM Clock radio
•Refrigerator, coffee maker, hair dryer, iron/ironing board, telephone; no air conditioning, no TV
•ADA compliant rooms available


KIVA:
•Custom handcrafted furniture
•One king bed or two double beds
•Pillow-top mattresses
•Private bath
•Private balcony
•CD player/AM-FM clock radio
•Air-conditioning
•Refrigerator, coffeemaker, hair dryer, iron/ironing board, telephone; no TV

Rates and dates are subject to change. For current rate information, click on the ARAMARK highlight at right.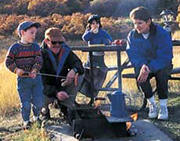 Thinking about camping instead? Check out the Morefield Campground, just four miles from the park entrance.


Did You Know?

Contrary to popular belief, the Ancestral Puebloan people of Mesa Verde did not disappear. They migrated south to New Mexico and Arizona, and became today's modern pueblo people.