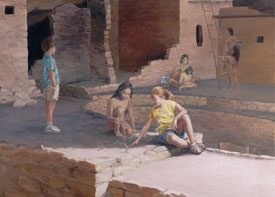 Jim Tschetter, artist
A field trip to Mesa Verde National Park and exploration of its resources gives students an opportunity to form their own intellectual and emotional connections to our shared cultural heritage.

There are many things you can do at Mesa Verde to help your students experience the natural and cultural resources of the park.
Plan a visit to a cliff dwelling, the ancient homes of Ancestral Puebloans who once lived in Mesa Verde;
Explore the museum and discover the tools, clothing, and other objects used as they went about their day-to-day activities;
Drive the Mesa Top Loop to see archeological sites of even earlier homes of pithouses and pueblos;
Hike a trail to experience the Mesa Verde environment;
View the movie, "Mesa Verde: Legacy of Stone and Spirit" to better understand the story of the Ancestral Puebloans who made this remote, high plateau their home over 700 years ago.

The "For Teacher" web pages provide information and links to help you:

Please use the links in the left-hand navigation and take advantage of all that Mesa Verde can offer!


Spring & Fall Educational Tours of Balcony House

Mesa Verde offers 90 minute tours specifically geared for school groups (3rd - 12th grade). Read More

Educational Fee Waiver Information

educational institutions may want to apply for an entrance fee waiver Read More

Artifact Gallery

links to artifact gallery activity Read More