Lesson Plan
Tales of a Time Traveler (Post-Visit Activity)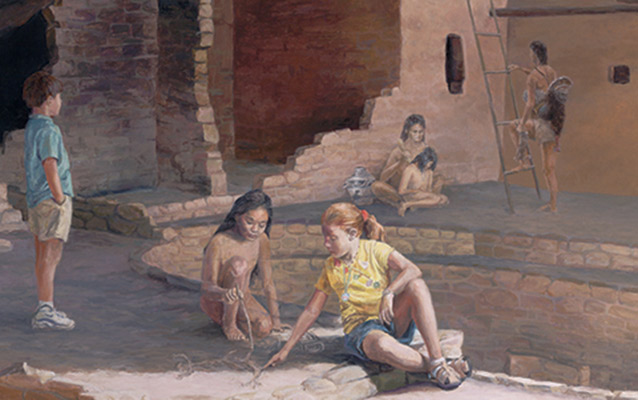 Courtesy of Mesa Verde Museum Association. Jim Tschetter, artist.
Grade Level:

Third Grade-Eighth Grade

Subject:

American Indian History and Culture, Family Life, Language Arts

Duration:

Two to four class periods

Group Size:

Up to 36

Setting:

classroom

National/State Standards:

CO.3.RWC.OEL.1, CO.4.RWC.WC.3
CO.5.RWC.RAP.2, CO.6.RWC.OEL.1
CO.7.RWC.OEL.2, CO.8.RWC.RR.1
CO.4.SS.GEO.2, CO.5.SS.HIS.2
CO.6.SS.HIS.1, CO.6.SS.GEO.2
CO.7.SS.GEO.2, CO.8.SS.GEO.2
Overview
This POST-VISIT ACTIVITY is intended for use after a trip to Mesa Verde National Park and an educational tour of Balcony House.
Students write a story describing a trip back through time to Balcony House in the year A.D. 1250. Students will describe the environment, their daily activities, and how they meet their basic needs. A class discussion will enhance the lesson by comparing and contrasting their lives with the lives of the Ancestral Pueblo people
Objective(s)
Students will be able to:
Demonstrate their knowledge of the three elements of culture discussed at Mesa Verde (basic needs, activities of daily living, and adaptations to environment) through stories.
Identify at least three specific features of Balcony House in their stories.
Explain the significance of cultural artifacts or ideas.
Demonstrate an ability to compare and contrast elements of their culture with another's.
Materials
Paper and pencil for all students
Pictures from your Mesa Verde field trip, or alternatively from the park website (www.nps.meve)
Copies of diagrams on p.3 and p.4 of lesson plan, or alternatively draw these on chart paper or chalk/white board
Experience More
on NPS.gov
Lesson Plans
Distance Learning
Field Trips
Topics