People
People significant to the development of Meridian Hill Park.
George Burnap was the designer of the first plan for Meridian Hill Park.
John J. Earley developed the process for producing the exposed aggregate concrete that gives Meridian Hill Park its unique character.

Horace Peaslee was the primary architect for Meridain Hill Park from 1917 to 1935. He played the most influential role in the development of the park.

Ferruccio Vitale was the chief designer for the planting plan, and later as a member of the Commission of Fine Arts, he played an integral role in the design and development of the park.
Mary Henderson lobbied Congress in support of the acquisition of the land and its development as a park.

Did You Know?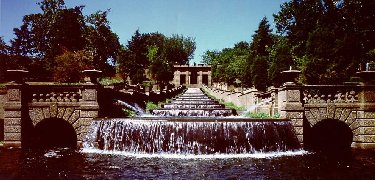 Meridian Hill was designated America's first National Historic Landmark in the Designed Landscape category during the 1994 Earth Day Ceremony by President Clinton.