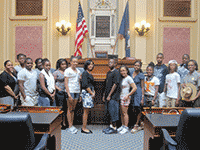 Maggie L. Walker Summer Youth Leadership Institute
Each July, the National Park Service sponsors the annual Maggie L. Walker Summer Youth Leadership Institute, a two week experiential program for youth interested in developing leadership skills and participating in community service projects. It is open at no cost to students ages 14 through 18 in the greater Richmond area and is limited to fourteen participants. The program meets weekdays, usually the first two weeks in July, 9am to 2pm on site at Maggie L. Walker NHS. In 2015, the program dates were Monday, July 6 through Thursday, July 16.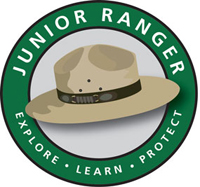 Junior Ranger
Take a trip back in time and learn about the remarkable life of Maggie Lena Walker. Many National Parks offer visitors the opportunity to join the National Park Service Family as Junior Rangers. Interested students complete a series of activities during their park visit, share their answers with a park ranger, and receive an official Junior Ranger badge.

To become a Junior Ranger at Maggie L. Walker NHS, come to the visitor center, pick up a Junior Ranger activity booklet and start your quest to explore, learn and discover more about Maggie Walker. Once you have completed the booklet, return to the visitor center to receive your Junior Ranger Badge.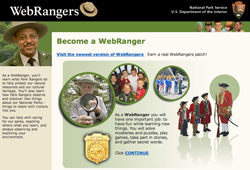 Web Ranger
Now you can be a Junior Ranger even if you are not able to visit a national park. Play more than 50 games and learn about your National Parks.
Become a Web Ranger!