Tours Begin Monday May 19, 2014.

Several recent publications have incorrectly indicated that tours resume the weekend of April 19 & 20. The park grounds are open year round from 7:00am to sunset, but tours will not resume until Monday May 19.
Weather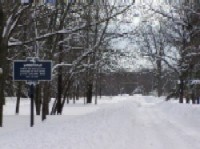 Weather and Climate


The weather at Martin Van Buren National Historic Site is typical of the northeast United States; it varies considerably throughout the year. Always check the forecast prior to your visit and dress accordingly. Be sure to wear comformtable walking shoes as well.


Did You Know?
In the 1848 Presidential election, Martin Van Buren ran as the candidate for a new third party. The Free-Soil Party was group of disaffected Democrats opposed to the extension of slavery into the south-western territories captured from Mexico during the Mexican-American War. Martin Van Buren was the presidential candidate and Charles Francis Adams was chosen as Van Buren's running mate. The Free-Soil Party received 10% of the popular vote in 1848 but no electoral votes. The Whig candidate and Mexican War hero Zachary Taylor won the Presidency in 1848. After the 1848 presidential election, Martin Van Buren would retire to Lindenwald.