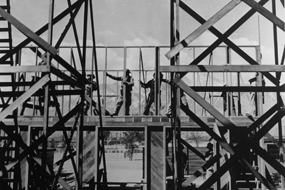 Courtesy of the National Archives
On June 16, 1944, the auditorium/gymnasium was used for the first time. The dedicatory performance was an operetta composed by the high school music teacher entitled "Loud and Clear." Two days later an audience estimated at nearly 1,200 attended the first high school graduation to be held in the auditorium. 177 students graduated. The auditorium was first used for a memorial service on August 6, 1944. The service was held for Pfc. Frank Arikawa, a Nisei soldier who was killed in Italy on July 6.
When the high school graduation was held in the auditorium/gymnasium, construction was not complete. It was not until September 1944 that the auditorium was opened for general use. The building measured 118 feet by 119 feet. The main auditorium floor was 80 ft. x 96 ft. and a stage was located at the east end of the main floor. On each side of the main section, one story wings were constructed to house toilets, dressing rooms, lockers, and offices.