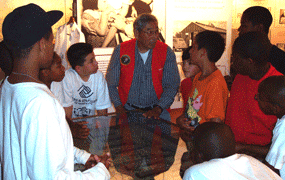 NPS Photo
"There must always be a conscious effort on the part of the classroom teacher to promote a better understanding of American ideals and loyalty to American institutions. There must be an over compensation in effort to keep alive a faith and belief in the American way, which will counteract the effects of isolation in an abnormal community, and the negative effect which often results from culture conflicts and old world sympathies of alien parents." Genevieve W. Carter, Superintendent of Education at Manzanar, 1945
Field Trips
Group tours are arranged by reservation. Please call (760) 878-2194, ext. 3333, to schedule a field trip. You may download and print the Group Reservation Request and fax it to (760) 878-2949. There is no charge for the tour or for parking.
Manzanar National Historic Site requires that school groups include one adult for every 15 students. Please call us to learn how best to prepare for a field trip to our site.
Self-Guided Tours
Groups are welcome to design their own programs and utilize the site appropriately. Please visit our pages on Curriculum Materials and Plan Your Visit to better prepare for your trip to Manzanar.