Volunteer Program Highlights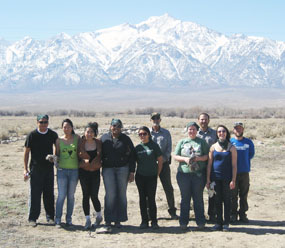 Volunteer Program Highlights 2011
The Manzanar volunteer program experienced a significant increase in hours donated in 2011 thanks to strong partnerships (both old and new), dedicated individuals and the diversity of projects, of which all participants remain committed to sharing the stories associated with the internment of Japanese Americans. The following projects highlight the diversity of methods that allow the site to connect with visitors of today and tomorrow: transcribing oral history interviews, docenting, researching daily life at Manzanar via camp newspapers, writing and editing exhibits and brochures, reconstructing an historic bridge over an historic pond garden, clearing brush around historic features and from the historic road grid, removing non-historic fencing, excavating and stabilizing a pond garden created during the internment of Japanese Americans, designing and building a landscape model of Manzanar which includes the upper Sierra Nevada peaks, watering historic fruit trees and much more. The site is ever grateful for the gracious support from volunteers.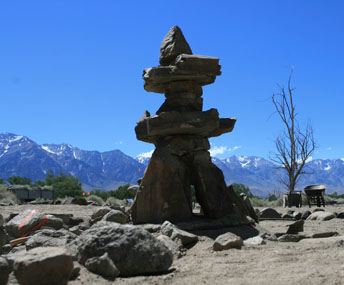 Volunteer Program Highlights 2010
To mitigate dust at Manzanar, Japanese Americans engaged in an extensive landscaping program. The NPS has excavated a number of remarkably well preserved gardens. This summer, thirty-five volunteers helped uncover two in Block 15. According to the Manzanar Free Press(MFP), "One of the most beautiful fish ponds in the center is found at Block 15 recreation hall. The pond is kidney shaped with a miniature bridge at the narrowest points." A second appeared in a November, 1942 MFP story announcing winners of a "best garden contest." Volunteers and rangers were amazed to find that stone lanterns from the "Rec Hall Garden," feared lost, had only been toppled into the pond. Dusted off and stood in their original positions, they looked exactly as in 1942 photos. Third Prize winner in the competition went to one of the most unique gardens in the camp, with a scallop-shaped pond and large island. Hank Umemoto of Gardena reflected, "Although the Issei engineers of magnificent gardens have long passed on, they have left us a legacy, a legacy that peace and tranquility can exist amid the doom and gloom of war and turmoil." The NPS is grateful for its volunteers. Ranger Carrie Andresen explains, "Their commitment initiates a deeper understanding into the lives of those who spent time here." The two gardens uncovered this summer will hopefully lure visitors from their cars into the heart of the camp, to discover what Manzanar means to them.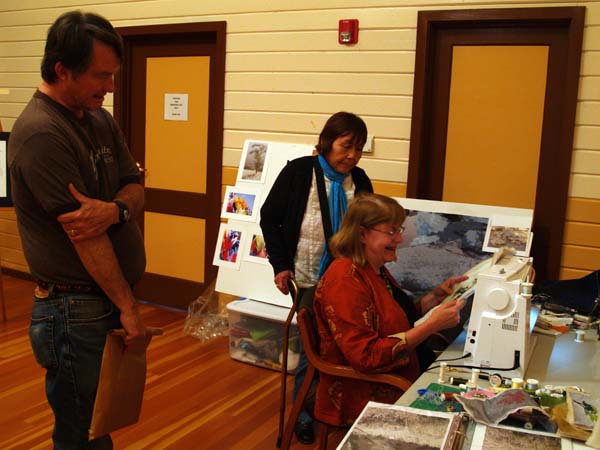 NPS PHOTO.
Volunteer Program Highlight 2009
Imagine hundreds of pieces of fabric in shapes, sizes, colors, and prints sitting next to a sewing machine. You may not immediately see a connection between the swatches and the internment of 120,000 people of Japanese ancestry from the West Coast of the United States during World War II. Meeting Cathy Erickson and seeing her quilts would change your mind. Cathy, our Artist in Residence, spent one month at Manzanar NHS, this spring. During her stay, she demonstrated her artistry and techniques and presented programs to the public, while sharing many of her completed quilts. Her quilts combine design and storytelling, synthesized from historic or modern photographs; stories from books, websites, personal interviews; trips to camps; and Day of Remembrance gatherings. During Cathy's presentations, she described her process step by step, revealing the beginning stages and concepts, techniques, and the end results of her artwork. She uses computer programs to create unique patterns and free-stitch designs into her quilts. Cathy's quilts are not the ones of homespun Americana, as they challenge the audience with stories of separation, hardship, and self-reliance. The pieces also challenge one's perception of quilts, themselves. Her more dramatic pieces is the "Carpenter's Quilt" combining traditional carpentry tools (sand paper, nails, and even a planar) with fabric. Carpentry became a hobby and necessity for many in the camps. Cathy's work touched many visitors and park staff.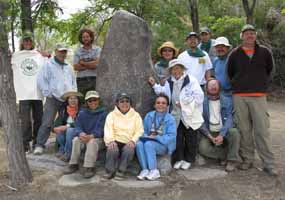 NPS PHOTO.
Volunteer Program Highlight 2008

In 2008, Manzanar invited volunteers to join NPS archeologists and park staff to excavate and stabilize features of Merritt Park, the largest "community garden" in Manzanar War Relocation Center. During two weeks in May, two weeks in July, and over Labor Day weekend, more than fifty volunteers donated over 1,200 hundred hours to the dig. They cleared brush, dug out sediment to reveal rock features, and restored the rock and cement work based on photo documentation. One worker even found a child's toy metal dumptruck embedded in the dirt.

Some of these volunteers were the descendants of Kuichiro Nishi, the internee who designed and led construction of Merritt Park in 1942. The Nishi family, ranging from in age from their forties to nineties, responded to the call for volunteers, seeing an opportunity to revisit their wartime home in Manzanar. They hauled brush and shoveled dirt, but also socialized and told stories about their father/grandfather and life in camp. All volunteers and staff benefitted from the stories and good will of the Nishi family, as well as other former internees and their families who participated.

Additional funding received from the Centennial initiative allowed Manzanar to provide each volunteer with a commemorative bandana and a high quality reusable insignia water bottle. We selected these items to promote safe behavior on the job. This, combined with an improved safety messaging program, provided an incident-free volunteer experience.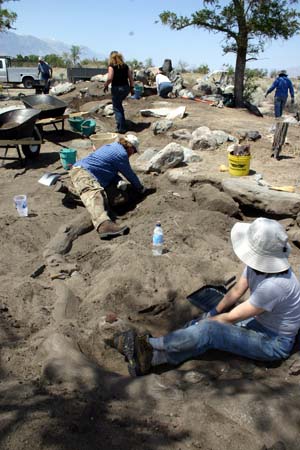 NPS PHOTO.
Volunteer Program Highlight 2007
Manzanar National Historic Site continued many successful programs in 2007 including our docent program, our Artist-in-Residence program, and our partnership with EcoAcademy, Los Angeles, which brings student work groups from urban neighborhoods to Manzanar.

The highlight of 2007, however, was the work that we did to engage our local communities through a two-week archeological dig and our first annual Manzanar Volunteer Day.

For two weeks in May, an NPS archeologist led volunteer work crews in uncovering and stabilizing the garden at Block 9. This garden was constructed by Japanese Americans from Terminal Island while they were interned at Manzanar during World War II and tells an important piece of the internment story.

Many gardens and other landscape features have been excavated in the past, sometimes using volunteers. But this is the first time in over three years that Manzanar has invited members of the local community to be a part of this exciting work. Many local volunteers, including familiar faces, new recruits, and students, took the opportunity to learn more about Manzanar, assist in the preservation of the site, and get really dirty!

Then on September 8, Manzanar National Historic Site hosted our first annual Volunteer Day. The schedule included a morning work project followed by a picnic lunch, interpretive talks, and a junior ranger program. The work project involved clearing brush and debris from the historic camp road grid for the purpose of making a walking trail from the Interpretive Center to the camp cemetery. Families from our local communities came out to work hard, have fun, and help us achieve our goals.

Manzanar seeks to serve all of our various communities, near and far. While we have a dedicated cadre of volunteers, we have set as a goal to gain more involvement from people who live nearby. This year's special outside work projects engaged locals because of the type of work, the flexibility of time commitment, and the emphasis placed on camaraderie. We will build on the success of our Volunteer Day to make it an anticipated annual event.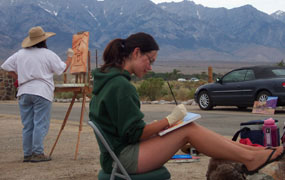 NPS PHOTO.
Volunteer Program Highlight 2006
Manzanar National Historic Site initiated our first Artist in Residence (AIR) program in 2006.

Our first Artists-in Residence were Melissa and Jamie Poulsen, a mother and daughter team. The Poulsens volunteered over 180 hours, sharing their artistic skills with Manzanar and its visitors. Melissa and Jamie created numerous oil paintings and wrote poetry. The two artists explored the site in depth and spent time interacting with visitors in the field.

In addition, the Poulsens volunteered for several other projects on site. The pair contributed time to photocopying documents, assembling newspapers for our popular teacher packets, and organizing the park's archival files.

The volunteer commitment of the Poulsens will continue in 2007 as they prepare a show of their work at Manzanar in the spring. Melissa and Jamie plan to spend time on site again to interpret their artwork and work with children.

The Poulsens not only shared their artistic skills with Manzanar, they also shared family artifacts and documents from Heart Mountain and Tule Lake War Relocation Centers. These documents are now a part of Manzanar archives and we thank the Poulsens for their generous donations.

Manzanar is responsible for telling the stories of Japanese American internment and we strongly encourage and welcome the help of others in achieving this goal. The first AIR program at Manzanar was a grand success, which we plan to continue the program in the future.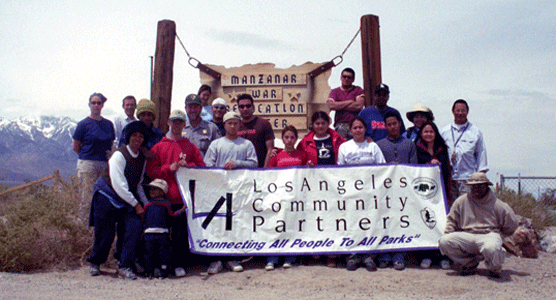 NPS PHOTO.
Volunteer Program Highlight 2005
The maintenance division here at Manzanar National Historic Site has been proactively working with teenagers from Earth Systems Science, Incorporated (ESSI). ESSI is a National Wildlife Habitat Stewards volunteer group that comes from Los Angeles County. Our maintenance staff takes these teenagers out into the site to teach them about the importance of protecting and cleaning up historic structures. Each time they visit Manzanar they volunteer around 400 hours, while cleaning up historic ponds and gardens as well as clearing away weeds from historic structures. They also explore the diverse ecosystem of Manzanar. They see and identify several species of lizards, rabbits, plants, birds and much more. The ESSI teens offer our visitors the opportunity to see the remnants of the internment camp. The work that these teenagers do is so vital to telling the story of Manzanar. We appreciate the gift of time that these teenagers from Los Angeles County offer to Manzanar. We also appreciate the time of their teacher Mr. Lee and his staff.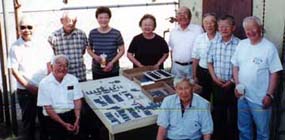 Photo by Archie Miyatake
Volunteer Program Highlight 2004
One of the highlights for visitors of all ages to the new Manzanar National Historic Site Interpretive Center is a 10' x 9' model of Manzanar War Relocation Center crafted and donated by a generous group of former Manzanar internees. After hearing that the NPS lacked sufficient funding to include a model in the new exhibit, the Manzanar High School Reunion Committee approached the National Park Service with an offer to make one. In all, thirteen graduates from the classes of 1943-45 worked on the project. The reunion committee paid for materials and the group devoted 1,482 hours. .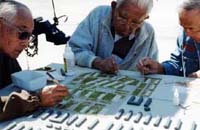 Photo by Archie Miyatake
What started out a small project turned out to be a media hit. TV and newspapers in Southern California and Japan picked up the story. Words cannot express our gratitude for this group of volunteers whose work supplements the visitor experience at Manzanar National Historic Site in a powerful way. After looking at the model, visitors are consistently astonished by the magnitude of the camp, the sheer number of buildings and the number of people they represent.This model is a very important part of the exhibits for two reasons: 1) its accurate depiction of what was here 2) it was a gift from a special group of former internees.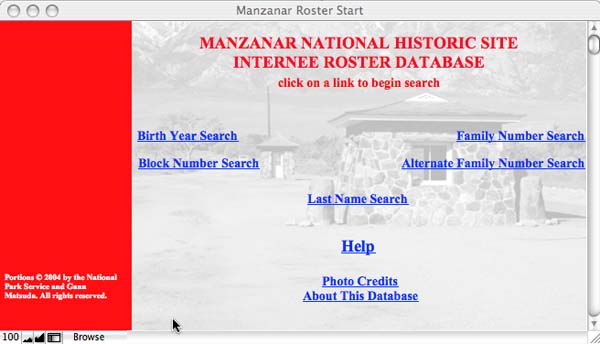 NPS PHOTO.
Volunteer Program Highlight 2003
In the spring of 2003, a dozen volunteers were recruited to create a digital version of the War Relocation Authority's Manzanar Roster. The project was labor intensive, requiring volunteers to decipher nearly 300,000 entries from a poor-quality reduced-sized photocopy of the roster. The data was entered into a spreadsheet program. Once data entry was complete, volunteers assisted in proofreading the spreadsheet and creating a list of names from the spreadsheet for interpretive exhibits. Currently, a volunteer is creating a searchable database of the information to be used by park staff and researchers. A test version of the database will soon be available to visitors in the interpretive center