COMMUNITY MEMBERS INVITED TO JOIN THE ANNUAL MANZANAR VOLUNTEER DAY MARCH 9, 2013


Manzanar wants to engage the community in the preservation of this special site. Staff and community members will work together to improve the site, get to know each other, and have some good, dirty, outdoor fun. Please wear sturdy, closed-toe shoes, a hat, and sunscreen. Manzanar will provide water, food, work gloves, and a commemorative bandana to every participant.
Volunteers should RSVP as participation is limited and so we can plan lunch. Please call Park Ranger Carrie Andresen to RSVP and for more information at 760-878-2194, ext. 3314. Manzanar National Historic Site is located nine miles north of Lone Pine and six miles south of Independence on the west side of U.S. Highway 395. More information about the site is available online at www.nps.gov/manz.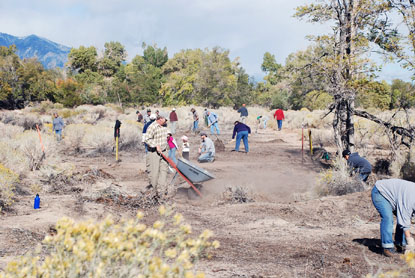 NPS Photo