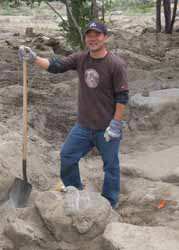 NPS Photo
After Manzanar closed in 1945 and the Nishi family returned to Los Angeles to rebuild their lives, their temporary home at Manzanar returned to the desert. As years went by, spring run-off from the Sierra Nevada snowpack periodically flooded the site, burying the camp's gardens with silt and sand. Many clues in the landscape were rendered invisible under layers of dirt.
Today, through a National Park Service Vanishing Treasures grant, park archeologists are excavating and stabilizing Merritt Park. Volunteers are invited to join the project, clearing brush, digging out the sediment to reveal the rock features, and restoring the rock and cement work based on photo documentation. One worker even found a child's toy metal dumptruck embedded in the dirt.
The Nishi family responded to the call for volunteers, seeing an opportunity to revisit their wartime home in Manzanar. On this breezy spring day, three of Kuichiro Nishi's children—Henry, Edith, and Barbara—returned with children, grandchildren, nieces and nephews. They came to haul brush and shovel dirt, to socialize and tell stories about their father and life in camp, and to be a part of restoring what was once their home. An odd and unfortunate home to be sure, but nonetheless part of the family heritage of a generation of Japanese Americans.