Donate
Thank you for your interest in supporting Manassas National Battlefield Park. The park is able to accept tax-deductible donations directly. Please send donations to:
Park Superintendent
Manassas National Battlefield Park
12521 Lee Highway
Manassas, VA 20109
For additional information, please call (703) 754-1861.
Did You Know?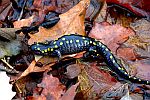 The park is home to a large vernal pool, located on the Stone Bridge Loop Trail. In the spring, this area fills with about a foot of water, and becomes a vital breeding ground for amphibian species.