Visitor Center Museum Closed During Construction Project

The museum at the Henry Hill Visitor Center is closed due to the installation of a fire protection system in the exhibit area. The visitor center and gift shop remain open daily and the park film is shown hourly. More »
Cooperating Association
Eastern National is a 501(c)3 non-profit cooperating association, operating in more than 150 national parks and other public trusts. Eastern National is dedicated to the preservation and use of the parks for the benefit of all Americans, visitors from all nations and future generations.
Eastern National currently operates educational retail outlets in 30 states, from Maine to Florida and the Caribbean. All of the products, programs and publications offered to visitors have a strong educational value. Profits are donated to the National Park Service and other partners to further support their educational and interpretive programs.
At Manassas National Battlefield Park, Eastern National operates the park bookstore, located at the Henry Hill Visitor Center.
Did You Know?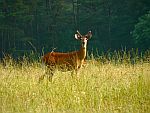 Manassas National Battlefield Park is one of the most unspoiled areas in the Culpeper Basin. Our 5,000 acres serve as a natural oasis for many types of plant and animal species in the increasingly urbanized Prince William County, Virginia.