Visitor Center Museum Closed During Construction Project

The museum at the Henry Hill Visitor Center is closed due to the installation of a fire protection system in the exhibit area. The visitor center and gift shop remain open daily and the park film is shown hourly. More »
Bookstore
The park bookstore is operated by Eastern National, a non-profit cooperating association which operates stores at over 150 National Park Service sites. It is located at the Henry Hill Visitor Center. The store offers a wide variety of books related to the American Civil War, including campaign studies, biographies, and regimental histories. In addition, the store offers shirts, maps, postcards, multi-media and theme-related merchandise.
The manager of the park bookstore can be reached at (703) 361-1339 x1202.
Visit Eastern National's online bookstore: eparks.com
Did You Know?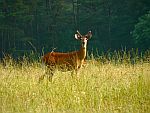 Manassas National Battlefield Park is one of the most unspoiled areas in the Culpeper Basin. Our 5,000 acres serve as a natural oasis for many types of plant and animal species in the increasingly urbanized Prince William County, Virginia.