Visitor Center Museum Closed During Construction Project

The museum at the Henry Hill Visitor Center is closed due to the installation of a fire protection system in the exhibit area. The visitor center and gift shop remain open daily and the park film is shown hourly. More »
Living History
LIVING HISTORY PROGRAMS:
There are no living history programs scheduled. Please check back soon for the 2014 schedule of events.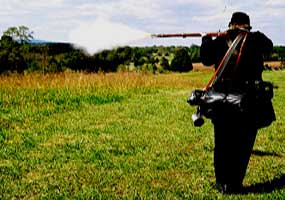 NPS photo
Ranger John Reid performs musket demonstration on Henry Hill.
Did You Know?
During the war, the North generally named a battle after the closest river, stream or creek and the South tended to name battles after towns or railroad junctions. Hence the Confederate name Manassas after Manassas Junction and the Union name Bull Run for the stream Bull Run.