Visitor Center Closed Due to Inclement Weather

Due to inclement weather, the Henry Hill Visitor Center will close at 11 a.m. on Sunday, December 8. Park grounds remain open.
Visitor Center Museum Closed During Construction Project

The museum at the Henry Hill Visitor Center is closed due to the installation of a fire protection system in the exhibit area. The visitor center and gift shop remain open daily and the park film is shown hourly. More »
Photo Gallery
Did You Know?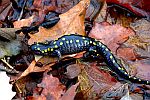 The park is home to a large vernal pool, located on the Stone Bridge Loop Trail. In the spring, this area fills with about a foot of water, and becomes a vital breeding ground for amphibian species.