Our Staff & Offices
Park Headquarters
12521 Lee Highway
Manassas, Va 20109
(703) 754-1861
Park Visitor Center
6511 Sudley Road
Manassas, VA 20109
(703) 361-1339
Law Enforcement Office
(703) 754-8694
In case of emergency, call "911" or
to report a crime or suspicious activity, call NPS Central Dispatch at 1-866-677-6677.
For non-emergencies, call 1-866-714-2250.
Natural Resource Manager
(703) 754-1859
Cultural Resource Manager
(703) 361-1339
Maintenance Division
(703) 361-7996
Did You Know?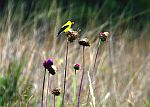 Manassas National Battlefield Park has been recognized by the National Audubon Society as an Important Bird Area.  The park is home to over 160 species of birds, half of which are migratory.