Visitor Center Museum Closed During Construction Project

The museum at the Henry Hill Visitor Center is closed due to the installation of a fire protection system in the exhibit area. The visitor center and gift shop remain open daily and the park film is shown hourly. More »
Our Staff & Offices
Park Headquarters
12521 Lee Highway
Manassas, Va 20109
(703) 754-1861
Park Visitor Center
6511 Sudley Road
Manassas, VA 20109
(703) 361-1339
Law Enforcement Office
(703) 754-8694
In case of emergency, call "911" or
to report a crime or suspicious activity, call NPS Central Dispatch at 1-866-677-6677.
For non-emergencies, call 1-866-714-2250.
Natural Resource Manager
(703) 754-1859
Cultural Resource Manager
(703) 361-1339
Maintenance Division
(703) 361-7996
Did You Know?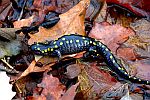 The park is home to a large vernal pool, located on the Stone Bridge Loop Trail. In the spring, this area fills with about a foot of water, and becomes a vital breeding ground for amphibian species.