Visitor Center Museum Closed During Construction Project

The museum at the Henry Hill Visitor Center is closed due to the installation of a fire protection system in the exhibit area. The visitor center and gift shop remain open daily and the park film is shown hourly. More »
Public Meeting: Fire Management Plan Environmental Assessment Public Scoping

Tuesday, March 4, 2014 6:00 PM- 8:00 PM Manassas National Battlefield Park Visitor Center 6511 Sudley Road Manassas, VA 20109 More »
Laws & Policies
Firearms
As of February 22, 2010, a new federal law allows people who can legally possess firearms under applicable federal, state, and local laws, to legally possess firearms in this park.
It is the responsibility of visitors to understand and comply with all applicable state, local, and federal firearms laws before entering this park. As a starting point, please visit our state's website.
Virginia Law (link)
See sections 18.2-279 through 18.2-312
Virginia Attorney General (link)
Federal law also prohibits firearms in certain facilities in this park; those places are marked with signs at all public entrances.
Did You Know?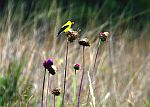 Manassas National Battlefield Park has been recognized by the National Audubon Society as an Important Bird Area. The park is home to over 160 species of birds, half of which are migratory.